61% of Americans Say They're Better Off Now Than 3 Years Ago: Poll
Would you say this is good or bad news for the Democrats?
A recently conducted Gallup Poll reveals most Americans lives have improved during the era of President Donald Trump
WASHINGTON, D.C. -- Sixty-one percent of Americans say they are better off than they were three years ago, a higher percentage than in prior election years when an incumbent president was running. In the 1992, 1996 and 2004 election cycles, exactly half said they were better off. In three separate measures during the 2012 election cycle, an average of 45% said they were better off.
Bernie, are you paying attention? People generally don't dismantle their capitalist society when things are going well in their bank accounts.
But wait! There's more!
Another Gallup poll says most Americans wouldn't vote for socialism if given the chance.
A majority of US residents — 53 percent — said they would vote against a socialist candidate for president, the Gallup poll released Tuesday reveals. Meanwhile, only 45 percent of respondents in the poll said they would vote for a socialist.
Oh, that's interesting. If Bernie keeps winning Democrat primaries I'm pretty sure we know what's gonna happen in November.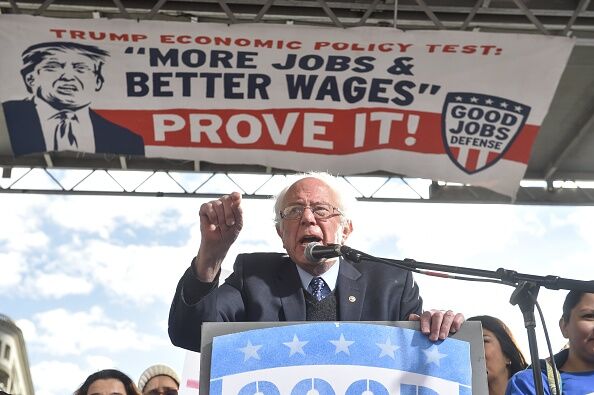 US Senator from Vermont Bernie Sanders speaks at a rally of striking federal contract workers calling on President-elect Donald Trump to stop federal contractors from shipping jobs overseas and stealing the pay of workers in the US in Washington, DC, on December 7, 2016. / AFP / NICHOLAS KAMM (Photo credit should read NICHOLAS KAMM/AFP via Getty Images)

Walton And Johnson
The legacy of the Walton & Johnson show continues after 4 decades as Steve Johnson hosts with longtime producer Ken Webster Jr. The show is a mix of comedy, politics, pop culture and history that pokes fun at the absurdity of everyday life....
Read more