Hard Rock Hotel NOLA: Worker's Dead Body Exposed After Tarp Blows Away
Three months. Three months and counting, folks.
That's how long a dead worker's rotting corpse has been trapped under the rubble of a collapsed building in New Orleans.
Back in October of last year, after the disastrous Hard Rock Hotel construction site in New Orleans collapsed and became too dangerous for rescue crews to enter the building's structure, officials decided to cover the dead worker's body with a tarp.
A single tarp.
But after three months the wind has blown the tarp away, exposing the legs of the dead worker's body.
Right now you're probably thinking, "Oh okay, so we can finally remove that poor soul's body from the rubble?"
Nope. You'd be wrong to assume the City of NOLA is going to clean up this mess anytime soon.
In fact, the New Orleans city officials say they probably won't be able to cover the body anytime soon.
A statement from New Orleans' extremely competent leadership says, "A tarp put in place to conceal the remains of one of the victims of the Hard Rock collapse has been shifted by the wind. The condition of the building and the altitude above street level complicate efforts to replace the tarp, as they have prevented recovery thus far."
There are very grim, disturbing photos of two legs sticking out from the rubble that have been circulating on social media. You don't want to see the photos - trust us.
The hotel partially collapsed Oct. 12, 2019, killing three people and injuring dozens more. That was over three months ago.
And, since then, the city of New Orleans has done nothing.
NOTHING.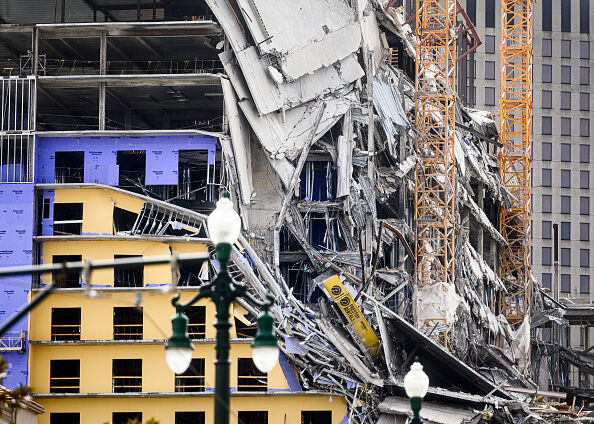 TOPSHOT - The Hard Rock Hotel partially collapsed onto Canal Street downtown New Orleans, Louisiana on October 12, 2019. - One person died and at least 18 others were injured Saturday when the top floors of a New Orleans hotel that was under construction collapsed, officials said. The New Orleans fire department received reports at 9:12am local time that the Hard Rock Hotel in downtown New Orleans had collapsed. (Photo by Emily Kask / 30238387A / AFP) (Photo by EMILY KASK/30238387A /AFP via Getty Images)

The Pursuit of Happiness
Ken Webster Jr is a talk radio personality and producer from Houston, TX. He started his career in Chicago on the Mancow show and has since worked at dozens of radio stations all over the country. He's currently the host of Pursuit of Happiness...
Read more