Trump: I Heard Rep Omar Married Her Brother
Before his rally on Wednesday night, President Donald Trump spoke to reporters about the allegations that far-left Rep. Ilhan Omar (D-MN) married her brother.
As he was boarding Marine One on his way to a MAGA rally in North Carolina, a reporter asked the President About Rep Omar, to which Trump replied: "There's a lot of talk about the fact that she was married to her brother. I know nothing about it. … I'm sure that somebody would be looking at that."
Questions about Omar's marital history have repeatedly been in the news as multiple news organizations have asked Omar to provide documents and answer specific questions that could clear up any controversy. Omar has refused to answer any questions about the matter.
Last month, the Star Tribune reported that "new investigative documents released by a state agency have given fresh life to lingering questions about the marital history of Rep. Ilhan Omar and whether she once married a man — possibly her own brother — to skirt immigration laws."
"Sent a list of questions and a request to talk to her siblings and father, Omar declined to do so," the Tribune added. "Omar declined to make her tax and immigration records available for this report. ... Omar's relatives could also clear the air, but they have remained silent about her marriage ... She declined to make her family available for this story."
Here's another angle on this story from the Washington Examiner:
Dozens of official documents suggest that Rep. Ilhan Omar, D-Minn., was living with her current husband, Ahmed Abdisalan Hirsi, throughout her entire legal marriage to Ahmed Nur Said Elmi, contradicting the story she tells to explain her multiple marriages.
Elmi is believed to be Omar's brother.
Gross.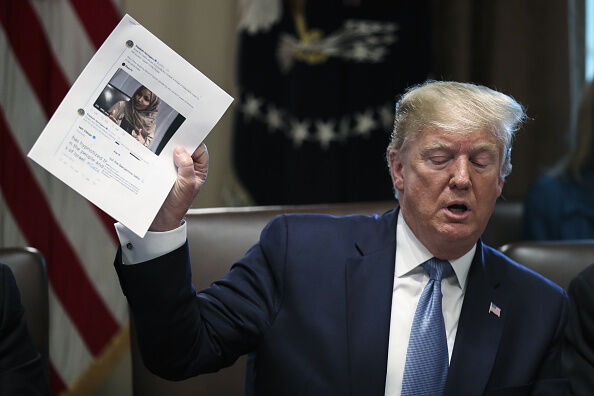 Photo by Getty Images - U.S. President Donald Trump holds up a piece of paper with an image of Representative Ilhan Omar, a Democrat from Minnesota, during a meeting in the Cabinet Room of the White House in Washington, D.C., U.S., on Tuesday, July 16, 2019. On Sunday, Trump issued a series of tweets inviting Ocasio-Cortez and her three closest allies to "go back" where they came from. Photographer: Oliver Contreras/Pool via Bloomberg

The Pursuit of Happiness
Ken Webster Jr is a talk radio personality and producer from Houston, TX. He started his career in Chicago on the Mancow show and has since worked at dozens of radio stations all over the country. He's currently the host of Pursuit of Happiness...
Read more