WBRZ Weather: Tricky Father's Day Forecast From WBRZ News 2 Chief Meteorologist Dr. Josh Eachus:
On Thursday, scattered showers and thunderstorms developed on time bringing rain to approximately 50 percent of the 13 Parish, 3 County area as was forecast. Slightly more activity may squeeze out on Friday as higher moisture content works with a weak upper level impulse drifting west out of Alabama.
THE FORECAST
Today and Tonight: With fast warming into the low 90s, scattered showers and thunderstorms will develop around noon on Friday, maxing out in coverage during the afternoon hours. As is always the case, warm season storms lack direction but have plenty of energy to produce frequent lightning and downpours leading to nuisance flooding. Look for about 60 percent of our 13 Parish, 3 County forecast area to receive rain today. Activity will diminish shortly after dusk with overnight lows in the low 70s.
Up Next: Of the two weekend days, Saturday is looking a bit better. At least for the morning hours, there should not be a whole lot of rainfall. By afternoon, scattered showers and thunderstorms could interrupt some outdoor plans. Keep this in mind and remember that while we all "run from the rain" to avoid getting wet, lightning is the actual danger. If you can hear thunder, you are close enough to be struck so geaux inside until the storm passes. Father's Day will bring the possibility of more widespread rain, as a surge of tropical moisture reaches the local area, although an all-day washout is not likely. A general 1 inch of rain is expected with isolated higher amounts where persistent downpours occur. Given the sharp gradient in moisture from east to west, there is some bust potential with this forecast. Look for updates and changes as we move into the weekend. This tropical moisture will budge westward after about a day or so returning the area to more normal weather.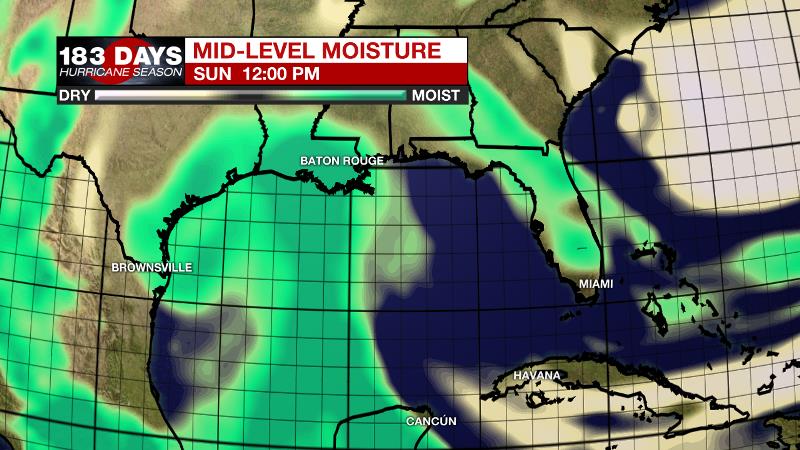 The Tropics: Am unorganized area of lower pressure in the southwestern Gulf of Mexico will not develop as it approaches the western Gulf Coast. However, associated moisture is likely to reach the western half of the Gulf Coast by the upcoming weekend, increasing rain chances and rain totals. However, there will be a sharp west to east cutoff in the moisture field across the central Gulf Coast leading to a tricky rain forecast.