WBRZ Weather: Reduced Air Quality As Warmth Continues From WBRZ News 2 Chief Meteorologist Dr. Josh Eachus:
Repetitive weather is in store for the coming days with humidity staying at bay for now. When the weather is nice and quiet, we are more prone to some negative health impacts. Clear skies are often created by areas of high pressure, which also result in sinking, poorly mixed air. This makes it difficult for clouds and showers to form but also allows pollutants to settle and ozone to increase. An *AIR QUALITY ALERT* has been issued for the Baton Rouge area from 12pm – 7pm Tuesday. Levels are low enough that only those with breathing sensitivities such as asthma would be affected by spending longer periods outside. You can reduce emissions by driving less and refueling very early or very late in the day.
THE FORECAST
Today and Tonight: Like Monday, Tuesday will once again be warm with high temperatures gliding into the upper 80s and low 90s. Winds will; stay northerly and light. A few high clouds may be noted as a weak cold front approaches. Overnight will be mostly clear and seasonable with low temperatures in the mid 60s.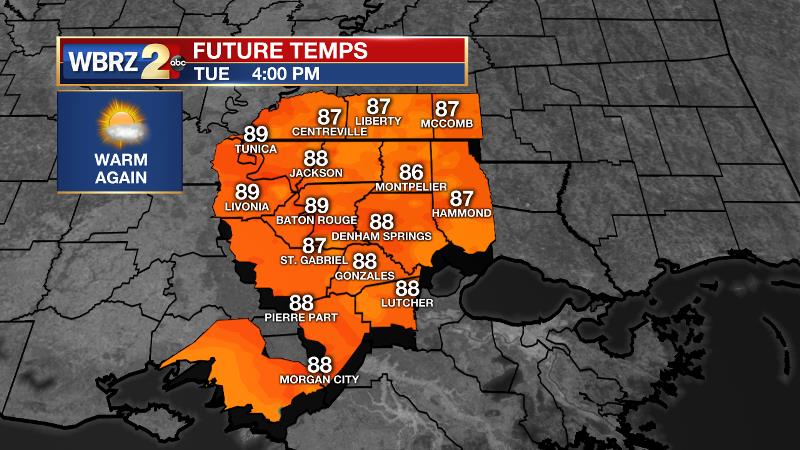 Up Next: Temperatures should stay elevated and hovering around 90 degrees for each of the next several afternoons. Although a dry warmth at first, humidity will be increasing by late in the week as winds come in from the Gulf. This will input enough moisture into the atmosphere for the possibility of afternoon showers and storms firing up over the weekend. A lot could still happen before then, so we will only carry low rain chances for now.