WBRZ Weather: Heavy, Strong Storms Saturday (VIDEO)
From WBRZ News 2 Chief Meteorologist Dr. Josh Eachus:
A strong cold front will move into the area on Saturday with strong storms and heavy rain possible. Much cooler temperatures and quiet weather will follow.
THE FORECAST
Today and Tonight: Similar high temperature numbers of nearly 80 degrees are in store for Friday as the atmosphere begins to change. South winds of 10-15mph will result in some humidity and clouds coming back. In the onshore flow, a shower or two may develop late Friday. Clouds will continue to thicken overnight with rain and thunderstorms pushing in from west to east near daybreak.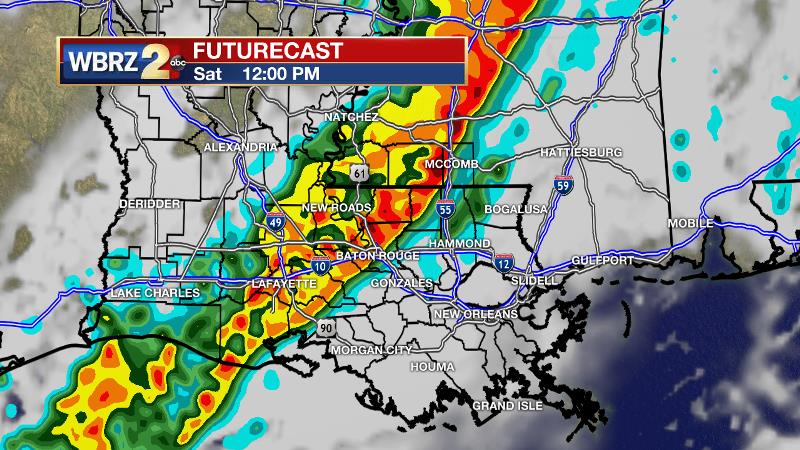 Up Next: A strong cold front will work into the area Saturday morning. This system will be capable of 2-4 inches of rain, which may cause standing water in typically flood prone areas. Those amounts should be manageable but if the rain overachieves just a little bit, some area rivers could be pushed to flood stage. Thunderstorms could create gusty wind along the squall line and even an isolated tornado. Most of the action will occur around the middle of the day Saturday.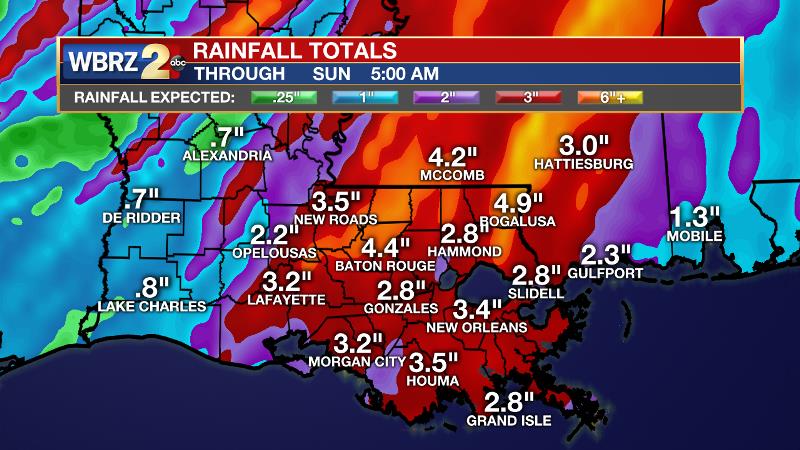 Don't be scared, be prepared: This is the spring severe weather season and events like this are expected a few times each year. Stay in touch with the forecast this weekend, know your severe weather plan and have a way to receive alerts. Never rely on an outdoor warning siren; if that is your main way of hearing warnings, you have little hope of hearing them indoors. Have a NOAA Weather Radio in your home or business, and activate the free WBRZ WX App. on your Apple or Android device. Identify the safest place in your home. Often a small room, on the lowest floor, away from windows, near the center of the house is your best option. If you live in a mobile home, you should leave and go to a sturdy structure when a watch is issued. Wear hard sole shoes into your safe place and cover your head until the threat passes. Also, leash up your pets and bring them along so you are not separated.
The cold front will quickly work east by Sunday allowing sunshine and unseasonably cool temperatures for the end of the weekend into early next week. Record lows and record low high temperatures may be challenged Sunday afternoon and Monday morning but no freezing temperatures are expected.