WBRZ Weather: Cresting Rivers After Saturday Soak (WBRZ News 2 Chief Meteorologist Dr. Josh Eachus) Minor river flooding will continue after three to six inches of rainfall across the forecast area on Saturday. Most gauges will crest about a foot above flood stage on Monday and then fall through the week. Sunny weather will start the week, but a bit of chill will return to the air. Temperatures are forecast to stay above freezing in most neighborhoods, but it will be a close call.
THE FORECAST
Today and Tonight: The new week begins with sunny skies and highs in the low to mid 60s. The all clear stays posted overnight with lows in the low to mid 30s. As is typical, thermometers may dip a little lower as you approach the Florida parishes and Mississippi counties to the north of Baton Rouge.
Up Next: With a weak cold front through the area on Tuesday, clear skies will stick but cooler temperatures are expected with highs in the 50s. Following that, a freeze is a bit higher chance on Wednesday morning. Clouds will increase into Thursday, as does the chance of a few showers Thursday night into Friday morning with another weak front. Rain amounts look very minor with this system. It is questionable as to much clearing occurs between this system and the next which comes by the second half of the weekend. At this time, it appears as though most outdoor events on Saturday, especially those happening early, will stay dry.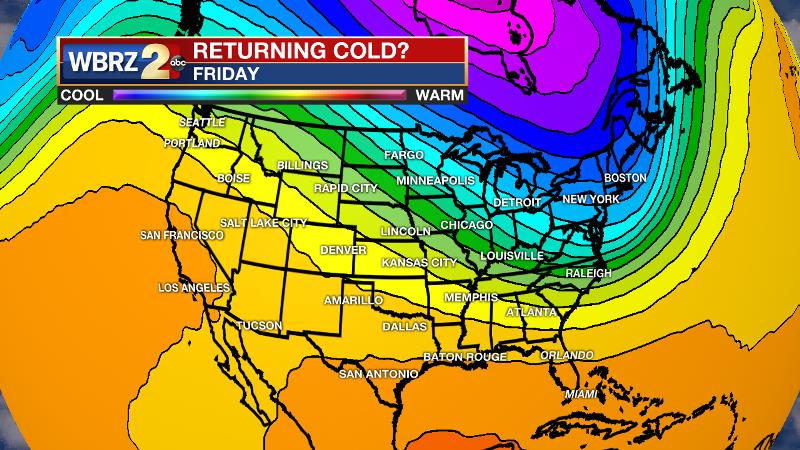 The cold front on Sunday will bring more clouds and showers, as well as a punch of chilly air. All of the excitement that circulated on social media last week seems unfounded, as temperatures currently are not expected to dip much lower than freezing, if they get there at all. The deepest cold air will likely remain north and east of the Baton Rouge area.