WBRZ: What To Expect With Tuesday's Weather
A cold front will push southward through the Baton Rouge area and into the Gulf of Mexico on Tuesday. As temperatures plummet, isolated, light rain showers could transition to snow and sleet. Bitter cold will follow.
THE FORECAST
Wintry Blast: On Tuesday, a high temperature near 40 degrees is likely to occur in the morning hours. Thermometers will fall through the 30s during the day, reaching freezing by about dusk. Precipitation output is expected to decrease as a cold front nears the Gulf of Mexico. Therefore, only isolated, light rain showers are anticipated to begin around midday. As the temperature drops, there will be a window of opportunity for any rain to transition over to frozen precipitation—snow and sleet.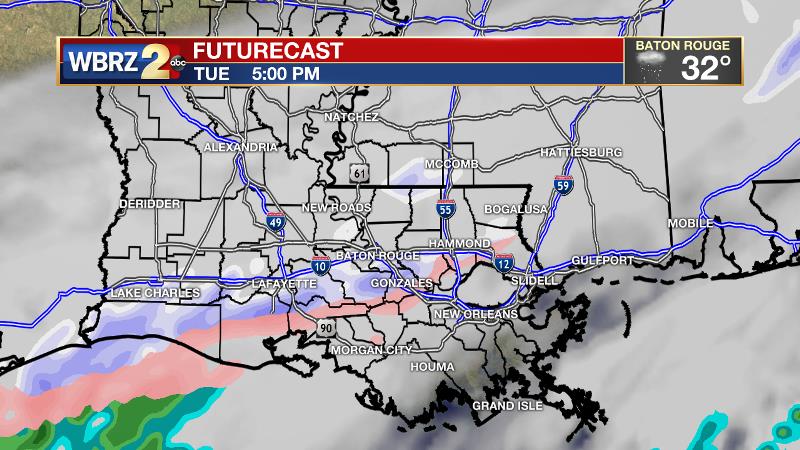 However, given the isolated and light nature of the precipitation, it is important to note that impacts will be minimal. Some patchy icy spots may develop on surfaces that are wet as the temperature drops below freezing. Use caution when driving after dark. It is possible that not all locations will even experience precipitation and only minor snow or sleet accumulations are expected for those areas that do. As per usual, the best chance of seeing any snow or sleet accumulate will be in southwest Mississippi and neighboring Louisiana parishes such as Pointe Coupee, West Feliciana and East Feliciana, where the cold air arrives earliest. Up to one inch is possible for these locations. At maximum, a coating is possible for areas along and south of I-10/12. Any wintry precipitation is expected to shut down by about 8pm.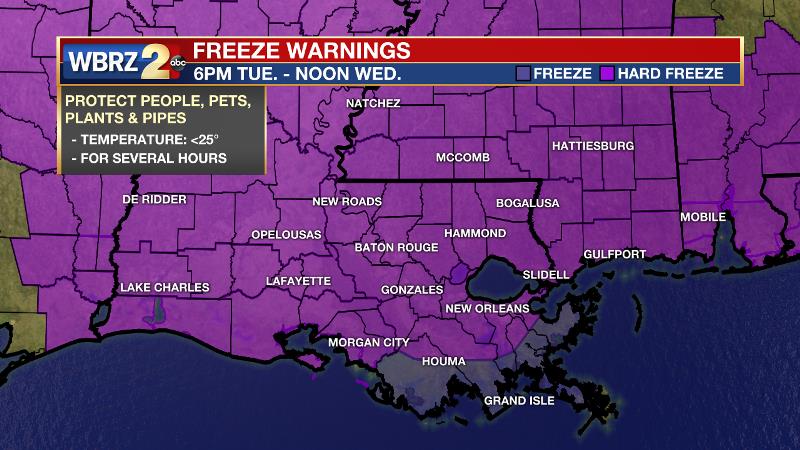 Perhaps the greater threat from this event will be dangerous cold. Low temperatures will tumble all the way into the upper teens by Wednesday morning. For this reason, a HARD FREEZE WARNING has been issued by the National Weather Service. This means temperatures will be below 25 degrees for several hours.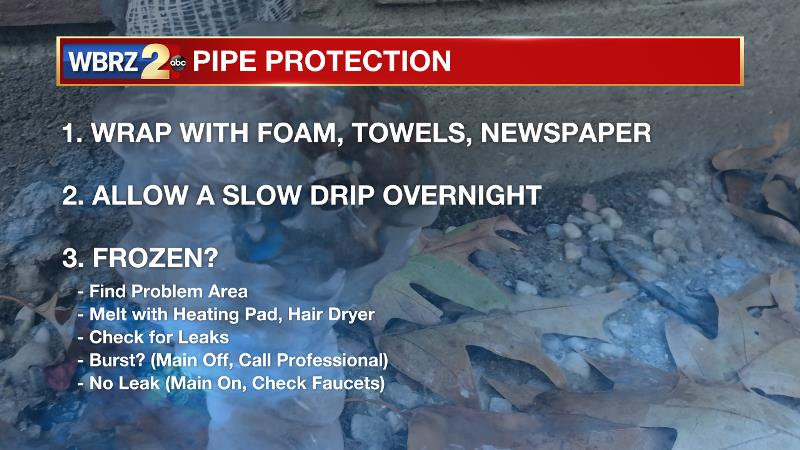 As the next two night may be even colder than January 1 and 2, even if pipes did not burst then, you might take additional precautions this time.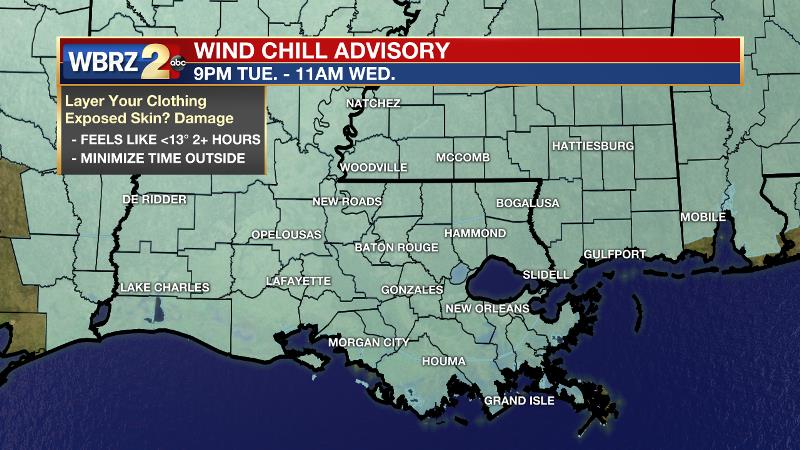 Also, with north winds of 10-15mph, biting wind chills will produce feels like temperatures in the single digits. A WIND CHILL ADVISORY has been issued by the National Weather Service to account for feels like temperatures in the single digits on Wednesday morning.
Up Next: Unlike the cold stretch in early January, this spell will be shorter lived. By Friday, high temperatures will return to the upper 50s. Saturday morning will be above freezing followed by a mostly cloudy afternoon in the upper 60s. By Sunday, thermometers may reach the 70s with a chance of showers and thunderstorms as another cold front moves through. Temperatures will not be nearly as cold on the other side of that one.