WBRZ Weather: Mid-Week Winter Blast (VIDEO)
(WBRZ News 2) As a cold front pushes through the area on Tuesday, temperatures are expected to fall. In fact, a high in the low 40s is likely to occur in the morning hours, before thermometers fall into the 30s through the day. Precipitation output is expected to decrease as the cold front nears the Gulf of Mexico. Therefore, only isolated rain showers are anticipated. As the temperature drops, there will be a window of opportunity for any rain showers to transition over to frozen precipitation—snow and sleet. However, given the isolated and light nature of the precipitation, it is important to note that impacts will be minimal. It is possible that not all locations will even experience precipitation and little to no snow or sleet accumulations are expected for those areas that do. As per usual, the best chance of seeing any snow or sleet will be in southwest Mississippi and neighboring Louisiana parishes where the cold air arrives earliest. The "worst case scenario" presented by the Weather Prediction Center, in other words the scenario that has a 5 percent or less chance of occurring, shows up to one inch possible along and north of I-12. The mostly likely scenario, is no accumulation for any locations along and south of I-12 and possibly a coating in southwest Mississippi.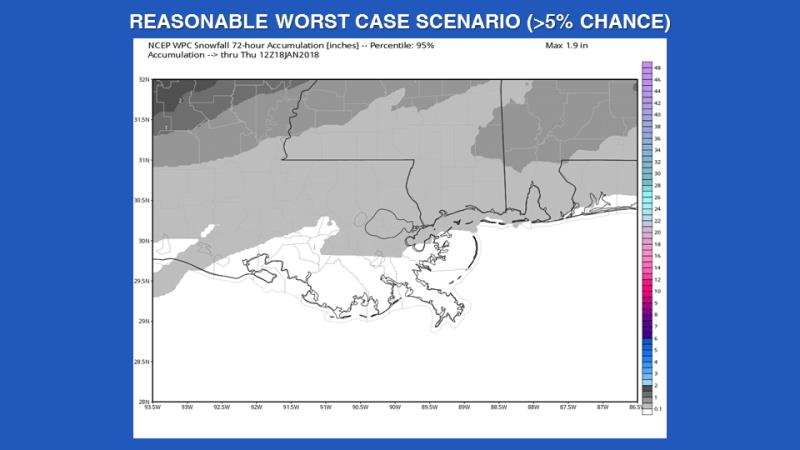 Low temperatures will tumble all the way to the low 20s and possibly upper teens by Wednesday morning. With north winds of 10-15mph, dangerous wind chills will produce feels like temperatures in the single digits. Expect hard freeze warnings and wind chill advisories to be posted by the National Weather Service. High temperatures will fail to leave the 30s on Wednesday followed by another brutally cold night into Thursday.
Up Next: Unlike the cold stretch in early January, this spell will be shorter lived. By the weekend, high temperatures will return to the upper 60s with the possibility of showers and thunderstorms. Low temperatures will be in the 50s.